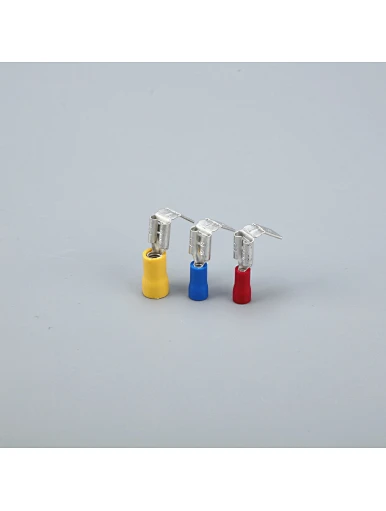 Butt splice Heat Shrink Butt Connectors Crimp Electrical Terminals Heat shrink waterproof wire connector
Material: Brass with tin plated
Color: Red, Blue, Yellow
Package: 1000 Pcs /bag
Brand: WAHSURE
ITEM: MF1.25, MF2, MF5.5
Material: Brass with tin plated
Color: Red, Blue, Yellow
Package: 1000 Pcs /bag
Brand: WAHSURE
Type: Male and Female Terminal, Electrical Connectors, Wire Terminals,Crimp Terminals,Male and Female Terminal, Electrical Connectors, Wire Terminals,Crimp Terminals
Features:
* Combination of female disconnect and male tab allows versatility in points of connection.
* Multiple connection points allow additional circuits to be added to existing equipment without expensive rework.
* Metal insulation grip sleeve crimps to wire insulation, providing protection to the crimp joint during high vibration applications.
* The disconnect has a funnel entry barrel configuration and an insulation grip sleeve barrel.
ITEM NO. : MF1.25
Dwire Range
AWG/MCM
18-16
mm2
0.75-1.25
B
6.8
B1
6.3
L
22
φd1
1.8
φD
3.9
H
9.7
t
0.8
A
10
Other size
Specification Data

ITEM NO
Dwire Range
B
B1
L
φd1
φD
H
t
A
AWG/MCM
mm2
MF1.25
18-16
0.75-1.25
6.8
6.3
22
1.8
3.9
9.7
0.8
10
MF2
16-14
1.25-2.0
6.8
6.3
22
2.3
4.2
9.7
0.8
15
MF5.5
12-10
2.63-6.64
6.8
6.3
22
3.5
5.5
13.7
0.8
24