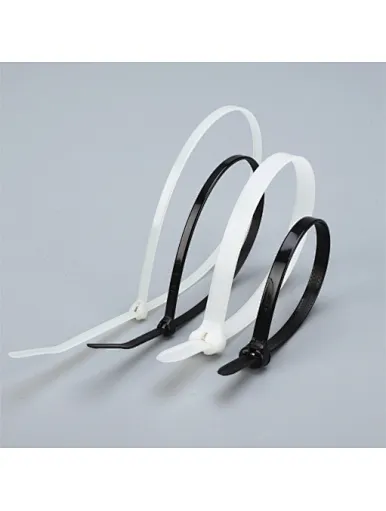 7*530mm(21 inch) STAINLESS STEEL BARB NYLON CABLE TIES, PA66
Material: Nylon 66, 94V-2 certificated by UL, Heat-resisting, erosion control, insulate well and not apt to age.
Characteristic: they have an unique ball locking mechanism that allow easily and quickly installed and not undone.
Operating Temperature: -40°C~85°C
Package:100pcs
Brand: WAHSURE
ITEM: HS-
3*100SLT,2.5*200SLT,3.6*150SLT,3.6*200SLT,3.6*280SLT,3.6*370SLT,4.8*189SLT,4.8*250SLT,4.8*300SLT,4.8*360SLT,4.8*380SLT,7*220SLT,7*300SLT,7*380SLT,7*460SLT,7*530SLT,7*700SLT,7*780SLT,8*240SLT,8*300SLT,8*350SLT,8*400SLT,10*300SLT,10*350SLT,10*400SLT,10*450SLT,10*600SLT
Keywords: Stainless Steel Barb Nylon Cable Ties, Stainless Steel Barb Nylon Cable Ties, Wahsure cable zip tie, Wahsure cable zip tie, UL nylon cable ties, UL nylon cable ties, 7*530mm PA66, 7*530mm PA66, Standard cable ties, Standard cable ties, pa66 ties, pa66 ties, fire protection cable, fire protection cable, stainless steel barb fittings, stainless steel barb fittings
Material: Nylon 66, 94V-2 certificated by UL, Heat-resisting, erosion control, insulate well and not apt to age.
Characteristic: they have an unique ball locking mechanism that allow easily and quickly installed and not undone.
Operating Temperature: -40°C~85°C
Package:100pcs or Special request Packing available
Brand: WAHSURE
Type: matal barb cable ties, Nylon zip ties, Nylon cable ties, Standard PA6,6 cable ties, UL plastic ties, Wahsure cable zip ties, wire ties, UL nylon cable ties, nylon cable ties colors, Colors nylon cable zip ties
Features:

* 
Metal Barb Cable Ties provides consistent performance and reliability design head features smooth, round edges.
* Stainless Steel Locking Barb and Dome-Top head, more stronger for lock and smooth Metal Pawl Prevents Cable Wear and Damage wires.
ITEM NO. : HS-7*530SLT
Length
mm
530
Inch
21
Wide
mm
7
Max. Bundle Dia.
mm
152
Inch
6
Min. Loop Tensile Strength
N
500
KG
51
LBS
112
Packing
100pcs
Other size
Specification Data:

ITEM NO
LENGTH (MM)
Max. Bundle Dia
Tensile Strength
INCH
MM
(mm)
LBS
N
HS-3*100SLT
4
100
22
18
80
HS-2.5*200SLT
8
200
50
40
180
HS-3.6*150SLT
6
150
35
40
180
HS-3.6*200SLT
8
200
50
40
180
HS-3.6*280SLT
11
280
70
40
180
HS-3.6*370SLT
15
370
102
40
180
HS-4.8*189SLT
7
189
42
50
220
HS-4.8*250SLT
10
250
65
50
220
HS-4.8*300SLT
12
300
76
50
220
HS-4.8*360SLT
14
360
92
50
220
HS-4.8*380SLT
15
380
102
50
220
HS-7*220SLT
9
220
51
112
500
HS-7*300SLT
12
300
82
112
500
HS-7*380SLT
15
380
102
112
500
HS-7*460SLT
18
460
127
112
500
HS-7*530SLT
21
530
152
112
500
HS-7*700SLT
28
700
203
112
500
HS-7*780SLT
31
780
230
112
500
HS-8*240SLT
9
240
57
112
500
HS-8*300SLT
12
300
76
112
500
HS-8*350SLT
14
350
92
112
500
HS-8*400SLT
16
400
108
112
500
HS-10*300SLT
12
300
76
124
550
HS-10*350SLT
14
350
92
124
550
HS-10*400SLT
16
400
108
124
550
HS-10*450SLT
18
450
124
124
550
HS-10*600SLT
24
600
186
124
550