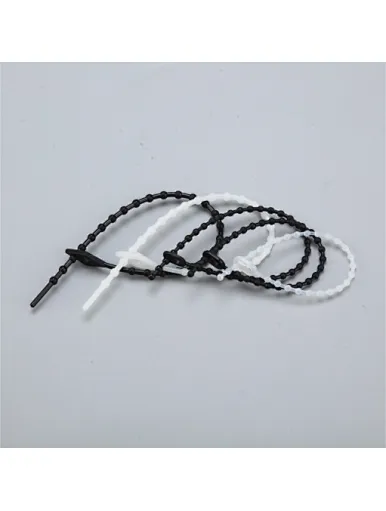 100mm(4 inch) Knot ties, PA66
Material:Nylon 66, 94V-2 certificated by UL, Heat-resisting, erosion control, insulate well and not apt to age.
Usage: Beaded design keeps wire from shifting and slipping.
Color: Black and White
Package:100pcs
Brand: WAHSURE
ITEM: HS-
100KT,120KT,145KT,385KT
Keywords: Knot ties, Knot ties, Wahsure cable zip tie, Wahsure cable zip tie, UL nylon cable ties, UL nylon cable ties, Colors nylon cable zip ties, Colors nylon cable zip ties, 100mm PA66, 100mm PA66, Standard cable ties, Standard cable ties, hdmi cable monster cable, hdmi cable monster cable, hdd cable connector cable, hdd cable connector cable, pa66 cable drag chain, pa66 cable drag chain, ul fire protection, ul fire protection, knot knot, knot knot, pa66 polyamide, beaded nylon cable ties
Material:Nylon 66, 94V-2 certificated by UL, Heat-resisting, erosion control, insulate well and not apt to age.
Usage: Beaded design keeps wire from shifting and slipping.
Operating Temperature: -40℃-85℃
Color:  Black and White
Package:100pcs or Special request Packing available
Brand: WAHSURE
Type: beaded nylon cable ties, Nylon zip ties, Nylon cable ties, Standard PA6,6 cable ties, UL plastic ties, Wahsure cable zip ties, wire ties, UL nylon cable ties, nylon cable ties colors, Colors nylon cable zip ties
Features:
*Beaded Nylon Cable Ties are a simple way to secure bundles. They secure quickly and can be released easily to add wires or cables. These beaded nylon cable ties can by re-used almost indefinately. 
*Easy to lock in place head design holds securely, releases easily – no tools needed to install or remove
*Beads are round and smooth to keep wires and cords protected from sharp edges and flashing
ITEM NO. : HS-100KT
Length
mm
100
Inch
4
Max. Bundle Dia.
mm
25
Inch
1
Min. Loop Tensile Strength
N
78.4
KG
8
LBS
18
Packing
100pcs & 500pcs
Other size
Specification Data:

ITEM NO
LENGTH (MM)
Max. Bundle Dia
Tensile Strength
INCH
MM
(mm)
LBS
KG
HS-100KT
4
100
25
18
8
HS-120KT
4.8
120
30
18
8
HS-145KT
5.8
145
35
18
8
HS-385KT
15
385
60
18
8