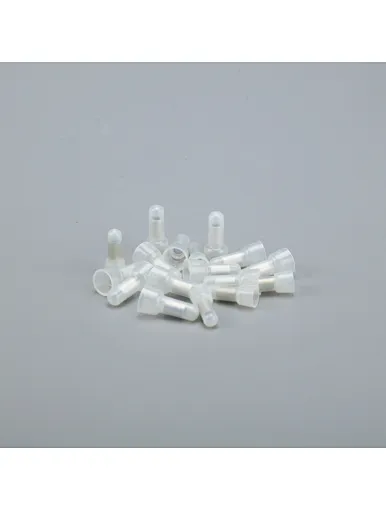 Closed-end Connectors, PA66,UL Certificate
Material: Nylon 66, 94V-2
Color: White
Package: 100 Pcs /bag
Brand: WAHSURE
ITEM: CE-1, CE-2, CE-5, CE-8
Material: Nylon 66, 94V-2
Color: White
Package: 100 Pcs /bag
Brand: WAHSURE
Type: Closed-end Connectors,Closed End Wire Connectors,Wire Nuts,Insulated Closed End Wire Connectors,UL Certificate,Closed-end Connectors,Closed End Wire Connectors,Wire Nuts,Insulated Closed End Wire Connectors,UL Certificate
Features:
*Peel the coat of wire, then insert to tube, use pincers to fix them.
*Nylon shell, long copper tube, easy to conduct electricity and hold wire tight.
* Two-piece construction with a translucent nylon molded insulator and a copper connector insert designed for use with solid or stranded wire.
ITEM NO. : CE-1 
H
mm
18
W
mm
6.2
D
mm
2.6
Suitable Wire
22-18;1.25mm2
Other size
Specification Data:

ITEM NO
H
W
D
Suitable Wire
mm
mm
mm
CE-1
18
6.2
2.6
22-18;1.25mm2
CE-2
19.7
7.9
3
22-14;2mm2
CE-5
25.5
10.5
4
22-10;5.5mm2
CE-8
27.7
12.4
5.3
16-10;8mm2