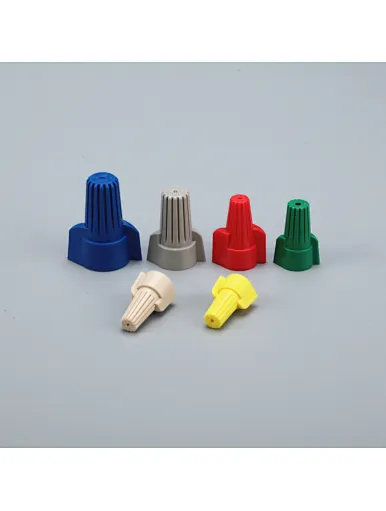 Double Wing Screw-on Connectors,PA66,UL Certificate
Material: PVC,with spring inside
Color: Green.Red,Tan,Blue,Yellow,Gray
Package: 100 Pcs /bag
Brand: WAHSURE
ITEM: HS-HP11,HS-HP12,HS-HP13,HS-HP15,HS-HP17,HS-HP19
Material: PVC,with spring inside
Color: Green.Red,Tan,Blue,Yellow,Gray
Package: 100 Pcs /bag
Brand: WAHSURE
Type: Double Wing Screw-on Connectors, Wire Connectors, Double Wing Twist On Wire Connectors, UL Certificate,Double Wing Screw-on Connectors,Double Wing Twist On Wire Connectors,UL Certificate
Features:
*Peel wire coat, insert the wire in, then tighten.
*The wing helps your hand naturally to give extra torque leverage and reduce the effort required for connecting.
*Square-wire spring and high-dielectric shell features deep skirt design to provide a strong grip, protect against flash-over and turned-back strands for maximum dielectric protection.
ITEM NO. : HS-HP11 
H
mm
25.4
W
mm
18
D
mm
10
Suitable Wire
18-10AWG
COLOR
Yellow
Other size
Specification Data:

ITEM NO
H
W
D
Suitable Wire
Color
mm
mm
mm
HS-HP11
25.4
18
10
18-10AWG
Yellow
HS-HP12
27.7
17.8
10
22-8AWG
Tan
HS-HP13
30.5
23.1
12
18-8AWG
Red
HS-HP15
32.6
25.5
14.6
18-8AWG
Gray
HS-HP17
39.5
31.7
17.8
14-6AWG
Blue
HS-HP19
28.8
20.2
12.1
14-10AWG
Green